Product Summary
The DFE100GS dektite is a premium quality EPDM rubber, rated for up to 115°C. This dektite comes with two ports suitable for antenna and solar cables. Including a reinforced aluminium frame around the base, designed to mould to multiple roof profiles. UV rated, durable, lead free with minimal tools required for installation allowing 0-35mm penetration.
View More Dektites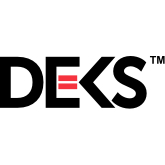 Features and Benefits
Penetration size: 0-35mm
Aluminium base that can be formed to suit your roof profile.
Dektite comes with two additional ports suitable for cables.
Dektite has unique rubber boot design that provides contact with flashing pipe to create a perfect watertight seal.
Rubber Dektite designed to withstand high temperatures of up to 115°C.
Grey in colour and UV rated.
Pack Quantity
1 loose piece
Outer: 1 box of 20 loose pieces
Helpful Tip: Bulk cartons prevent potential transit damage.