Product Summary
The 480mm DigiHUB® enclosure suits smart home wiring for data, TV, pay TV, IR control systems and phone networks. A simple and tidy way to manage all your home networking, AV and communication solutions. Designed for use with DigiHUB® accessories, DHP08 CAT6 data patch, TM48S phone patch module, DS04 and DS08 TV distribution modules. An MP01 mounting plate can be added to allow for simple addition of equipment such as network switches, routers, modems and IR controls systems.
View More DigiHUB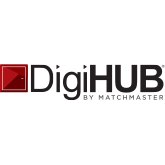 Features and Benefits
Compact and discreet for use in the modern smart home. (Size: 372x480x111mm WxHxD)
Suitable for homes, apartments, townhouses and offices.
Designed for mounting to wall surfaces.
Suits data, TV, pay TV, IR control, phone network and security system distribution with a lockable door to protect equipment.
Handy cut outs in rear for cable access, power points, punch-out points top and bottom for cable management.
Pack Quantity
Inner: 1 box of 1 piece
Outer: 1 carton of 2 boxes (2 pieces)
Helpful Tip: Bulk cartons prevent potential transit damage.